Bob Dylan otkrio detalje trostrukog slavljeničkog box seta s do sada neobjavljenim snimkama
Trostruki album "1970" (50th Anniversary Collection) Bob Dylan objavljuje 26. veljače 2021. (Columbia Records/Legacy Recordings/Menart).
Ovo trostruko izdanje uključuje prije nedostupne studijske snimke baš kao i session na kojem gostuje George Harrison – iz svibnja 1970. Snimke s albuma Bob Dylan – 1970 su u limitiranoj verziji objavljene 4. prosinca kao dio izdanja Bob Dylan – 50th Anniversary Collection. Izvedbe iz 1970-ih su izazvale veliki interes i zahtjev da se ove povijesne snimke objave. Na Bob Dylan – 1970  su prije neobjavljeni dijelovi sa sessiona iz kojih su proizašli Self Portrait i New Morning, kao i sve studijske snimke nastale 1. svibnja 1970. s Georgeom Harrisonom. Slavni su glazbenici zajedno izveli devet pjesama među kojima su originalne Dylanove: One Too Many Mornings, Gates of Eden, Mama, You Been On My Mind) i obrade (the Everly Brothers' "All I Have to Do Is Dream," Carl Perkins' "Matchbox")…
Bob Dylan – 1970 imat će novu naslovnicu i bilješke Michaela Simmonsa. Snimke su nastale u New Yorku – od 3. do 5. ožujka i 1. svibnja 1970., u  Studio B, Columbia Recording Studios, a snimke od 1. lipnja do 5. kolovoza i 12. kolovoza, u Studio E, Columbia Recording Studios.
Producenti albuma su: Jeff Rosen and Steve Berkowitz, a originalne sessione je producirao Bob Johnston.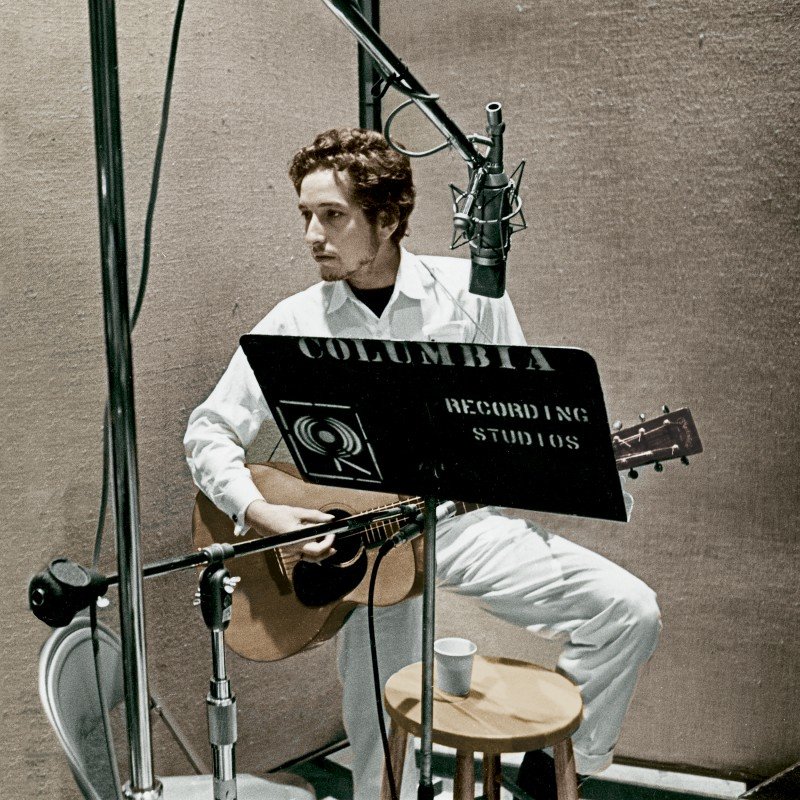 CD1
3. ožujka 1970.
1. I Can't Help but Wonder Where I'm Bound
2. Universal Soldier – Take 1
3. Spanish Is the Loving Tongue – Take 1
4. Went to See the Gypsy – Take 2
5. Went to See the Gypsy – Take 3
6. Woogie Boogie
4. ožujka 1970. 
7. Went to See the Gypsy – Take 4
8. Thirsty Boots – Take 1
5. ožujka 1970.
9. Little Moses – Take 1
10. Alberta – Take 2
11. Come All You Fair and Tender Ladies – Take 1
12. Things About Comin' My Way – Takes 2 & 3
13. Went to See the Gypsy – Take 6
14. Untitled 1970 Instrumental #1
15. Come a Little Bit Closer – Take 2
16. Alberta – Take 5
Bob Dylan – vokali, gitara, klavir
David Bromberg – gitara, dobro, bas
Al Kooper – orgulje, klavir
Emanuel Green – violina
Stu Woods – bas
Alvin Rogers – bubnjevi
Hilda Harris, Albertine Robinson, Maeretha Stewart – prateći vokali
1. svibnja 1970.
17. Sign on the Window – Take 2
18. Sign on the Window – Takes 3-5
19. If Not for You – Take 1
20. Time Passes Slowly – Rehearsal
21. If Not for You – Take 2
22. If Not for You – Take 3
23. Song to Woody – Take 1
24. Mama, You Been on My Mind – Take 1
25. Yesterday – Take 1
CD2
1. Just Like Tom Thumb's Blues – Take 1
2. Medley: I Met Him on a Sunday (Ronde-Ronde)/Da Doo Ron Ron – Take 1
3. One Too Many Mornings – Take 1
4. Ghost Riders in the Sky – Take 1
5. Cupid – Take 1
6. All I Have to Do Is Dream – Take 1
7. Gates of Eden – Take 1
8. I Threw It All Away – Take 1
9. I Don't Believe You (She Acts Like We Never Have Met) – Take 1
10. Matchbox – Take 1
11. Your True Love – Take 1
12. Telephone Wire – Take 1
13. Fishing Blues – Take 1
14. Honey, Just Allow Me One More Chance – Take 1
15. Rainy Day Women #12 & 35 – Take 1
16. It Ain't Me Babe
17. If Not for You
18. Sign on the Window – Take 1
19. Sign on the Window – Take 2
20. Sign on the Window – Take 3
Bob Dylan – vokali, gitara, klavir, usna harmonika
George Harrison – gitara, vokali (CD1: 20, 24; CD2: 2, 3, 6, 7, 10, 11, 16)
Bob Johnston – klavir (CD1: 24, 25; CD2: 1-3)
Charlie Daniels – bas
Russ Kunkel – bubnjevi
1. lipnja 1970
21. Alligator Man
22. Alligator Man [rock version]
23. Alligator Man [country version]
24. Sarah Jane 1
25. Sign on the Window
26. Sarah Jane 2
CD3
2. lipnja 1970
1. If Not for You – Take 1
2. If Not for You – Take 2
3. lipnja 1970. 
3. Jamaica Farewell
4. Can't Help Falling in Love
5. Long Black Veil
6. One More Weekend
4. lipnja 1970.
7. Bring Me Little Water, Sylvie – Take 1
8. Three Angels
9. Tomorrow Is a Long Time – Take 1
10. Tomorrow Is a Long Time – Take 2
11. New Morning
12. Untitled 1970 Instrumental #2
5. lipnja 1970.
13. Went to See the Gypsy
14. Sign on the Window – stereo mix
15. Winterlude
16. I Forgot to Remember to Forget 1
17. I Forgot to Remember to Forget 2
18. Lily of the West – Take 2
19. Father of Night – rehearsal
20. Lily of the West
Bob Dylan – vokali, gitara, klavir, usna harmonika
David Bromberg – gitara, dobro, mandolina
Ron Cornelius – gitara
Al Kooper – orgulje
Charlie Daniels – bas, gitara
Russ Kunkel – bubnjevi
*nepoznati prateći vokali
12. kolovoza 1970.
21. If Not for You – Take 1
22. If Not for You – Take 2
23. Day of the Locusts – Take 2
Bob Dylan – vokali, gitara, usna harmonika
Buzzy Feiten – gitara