INTERVIEW: Chit chat with Clémentine and Siegfried from Visions of Atlantis
Visions of Atlantis (VOA) is a metal band from Austria, founded in 2000. During the existence, they changed couple of members and the last change happened almost four years ago.
VOA announced that the most of line-up was parting ways, leaving the only remaining and founding member Thomas Caser. This decision was mostly because of a desire from the parting members to play their own style of music, whilst the band was orientating to go back to its classic style. Thus, it welcomed back some of its old members: Werner Fiedler, Chris Kamper, and Michael Koren and they welcomed new Clémentine Delauney and Siegfried Samer. Since then, they released EP "Old Routes-New Waters" so the fans stayed impatient and hungry for the new material. The band was performing on this year Metaldays, where we got opportunity to talk with Clémentine and Siegfried.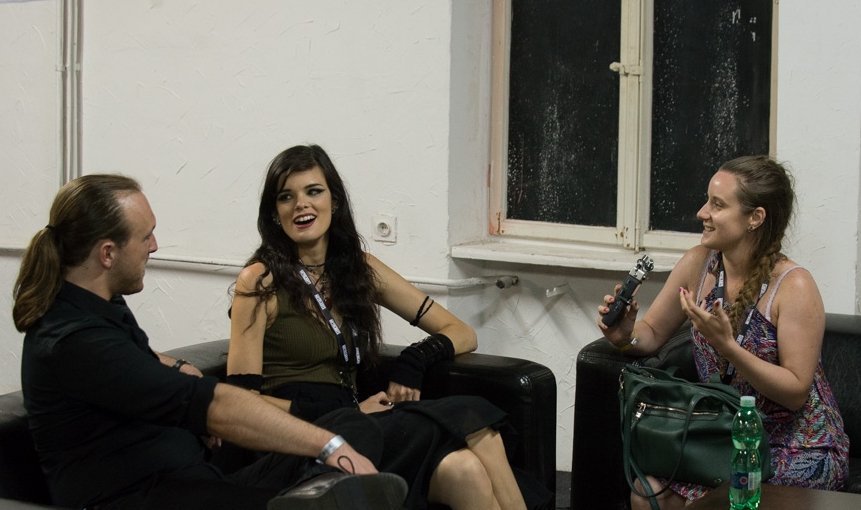 «Summer Shore Excursions» is the name of your tour. It reminds me a bit on school trips and high school days. Does it feels like that? I'm sure you have anecdote?
Clementine: Well… School trip would never include alcohol hahaha
Siegfried: Yes, Yes… It does not include alcohol. It does not. I'm sorry, I don't know where you get alcohol, I don't know what are you talking about hahaha It reminds me on my school days music ways. You can say it's a bit of a school trip because it's still for us a new band. We've been with the band for almost four years now, but still, considering the fact that the band is really old, over 15 years and we're the youngest… You can interpret it like schools trip where we get to know each other and see how the things will work out.
Clementine: Yes, and party in the hotel room, can we squeeze in the room and have fun.
Siegfried: I don't know what are you talking about. First the alcohol, now the party in the room. Seriously?
So Clementine, you handle well with the boys?
Clementine: It's okay. They are okay.
The first time I watched VOA it was in 2011. at this festival, when "Delta" was released and this is not your first appearance in Tolmin. Well… For old members not, but now you were on the main stage. Regarding the rain and everything, are you satisfied with the show?
Clementine: We were very happy with the crowd we had and time, because it was still pretty early for the main stage and the weather… I mean, we could see the dark clouds approaching little by little during our set and it started to be very windy when we left so… We were very lucky we were not in the storm. Thanks who ever helped for that.
Old routes-new waters is the latest release, does that reflects bands decisions?
Clementine: Sure, because if you know us as you know the discography of VOA, it still evolves to more modern stile with the last albums "Delta" and "Ethera" and when the whole line up changed, there was common decision of getting back to the roots of VOA, which is pure symphonic metal. So yes, this EP was a way to tell our fans that we are definitely getting back to some of these influences and back to more classic singing. I'm not gonna tell to much.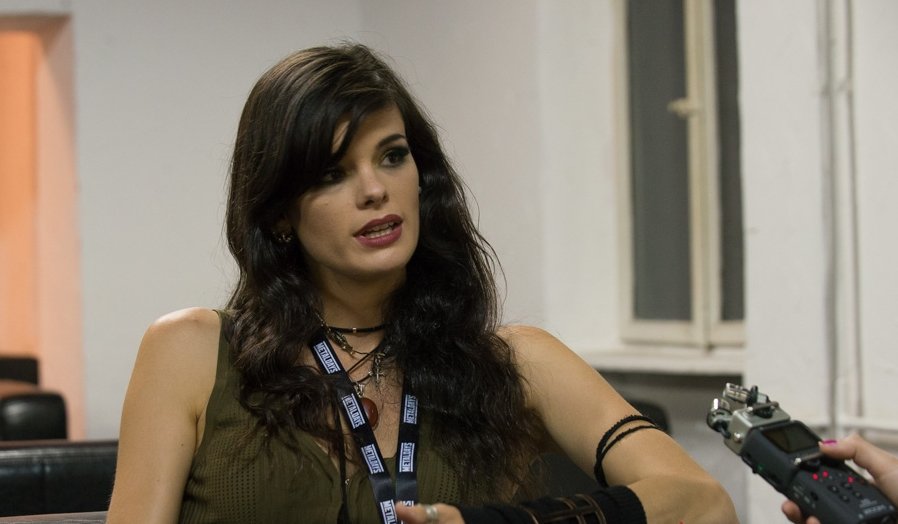 We had opportunity to hear two new songs on Metaldays and I would say that you Celemntine have much more lead vocals, comparing with the older songs.
Clementine: Maybe on these two, personally I don't have jet an overall idea of the entire record because I haven't done all my recording jet. We'll do them in August. But yes, on these two songs I have more lead vocal parts than on other older VOA songs.
So, can we expect new material at the beginning of the next year?
Clementine: Either early next year or end of this one.
Siegfried: It will depend on how fast we can finish the recording and mixing.
How do you manage to record and go on tour at the same time? I know both require a lot of time.
 Siegfried: That's the reason why we'll probably release next year, because it's hard to do both things at once. If we weren't doing the shows we could be done with the album, but thing is we thought it would be done sooner so that we could promote it on this shows already. Obviously that didn't work as we planned so now we're working on the album while we still do shows.
But this is the reason why you should come back next year so that we can get to know with the new material. 
Clementine: We hope so.
When you finish the album, I believe you will go on the new tour. Is there any place where you would really like to go?
Clementine and Siegfried: Anywhere?
Clementine: I would love to play in Russia or Japan
Siegfried: They've been in China. That would be really exciting to go again.
Clementine: VOA already toured the US, back in the days. It would be great to make new premiere on this territories because the new album could be welcomed everywhere. I suppose.
Siegfried: Of course, the first thing we're gonna visit is good old Europe. Because it's not so far and we can more easily tour, we're gonna do a lot of countries. I don't have tour schedule jet, but I'm pretty sure we're gonna do quite more countries.
Thank you so much for your time and when the new material comes out, definitely we're gonna talk about that and the new tour.
Clementine: Sure, thank you.
Siegfried: Thank you.
Photo: Pavao Hodap